Shaping the IoT future
across all market sectors
World of IoT Map
Our World of IoT Sector Map, first introduced in 2008, has been translated into many languages worldwide as a reference document. Now updated for the market today, it shows the 9 key business sectors where IoT applications abound, the application groups and application types within those sectors, and the devices – or 'Things' – typically connected at the network edge through which IoT services are offered to the market.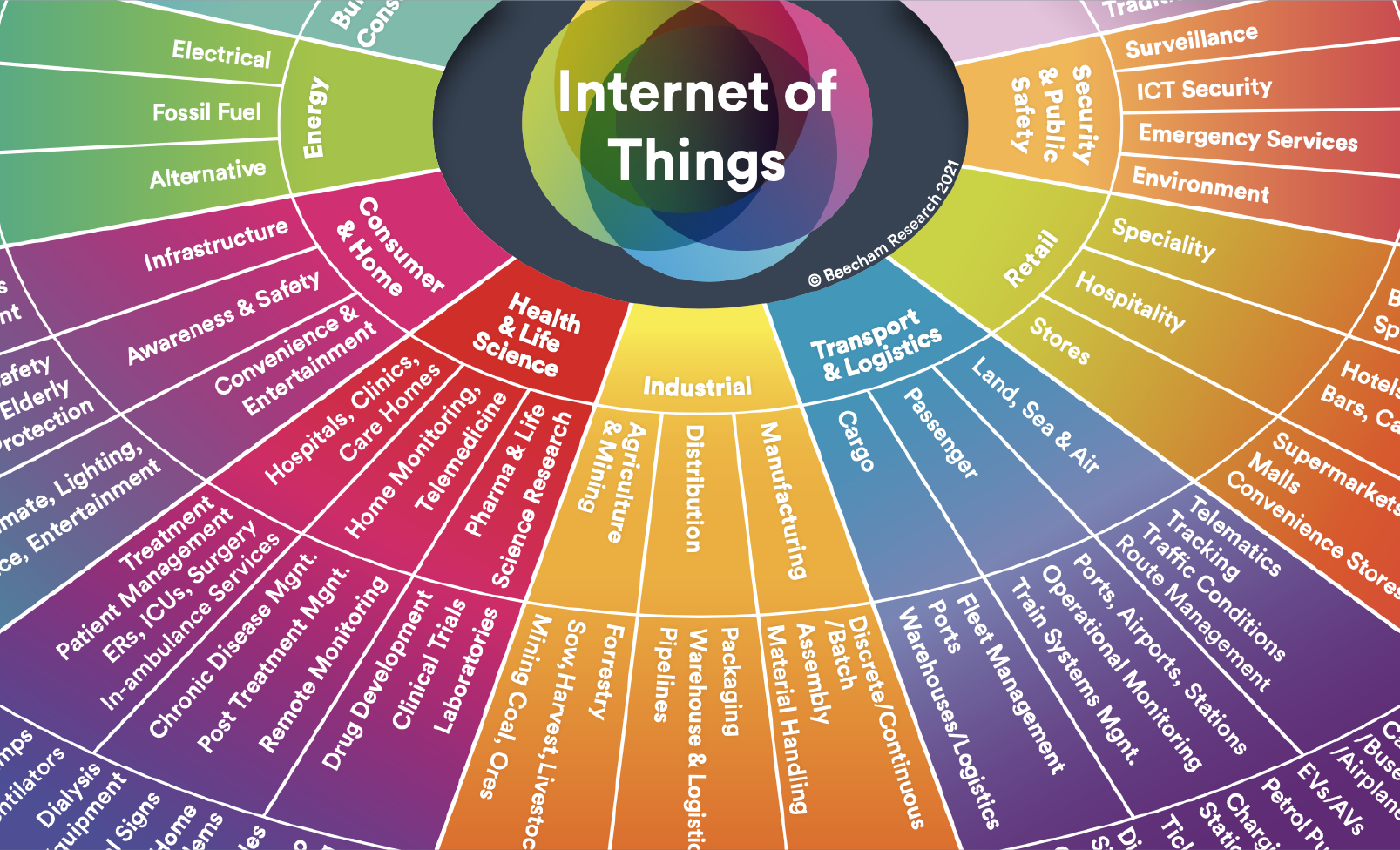 4G/5G Private Networking:
New Choices for IoT Deployment
Private cellular networks (PCNs) have come a long way in the last decade and are set to become increasingly crucial for business IoT operations over the next few years.
Why is that?
This new 100+ page report is free to download and is essential reading for anyone looking to deploy 4G/5G private networking as part of an IoT solution in their organisation.
Whitepaper
5G Private Networks for Maritime Use: Opportunities for Digital Port Automation White Paper
A study conducted by Beecham Research on behalf of the MulteFire Alliance (MFA) confirms that 5G Private Networks (5G PNs) operating in unlicensed spectrum now offer significant opportunities for port automation in the Maritime sector.
Blog
Private LTE networking: a sweet spot for Enterprise IoT
Enterprise IoT has the proven ability to increase operational efficiency, improve performance, and enhance operational agility. The overall result is a boost to a company's competitive offer and its bottom line. 
Blog
What has IoT got to do with EV Charging?
The number of Battery Electric Vehicles (BEVs) in Europe is expected to rocket to nearly 20% of all vehicles in use by 2025.
Blog
Private LTE networking: a next step for Enterprise IoT?
Deploying network slicing enables connectivity to be customised to match the performance requirements of different applications and use cases.
See the wide range of projects we have worked on with our clients